---
Falken AZENIS FK453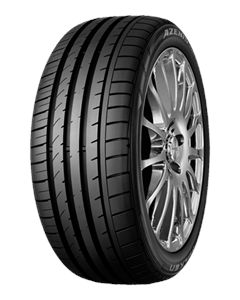 Azenis FK453
Our new flagship tyre AZENIS FK453 is distilled from six years of development and thousands of kilometres of racetrack and test driving. The striking tread design is dominated by longitudinal grooves – three wide and one narrow. Together with the offset sipes integrated into the tyre shoulder, this new tread efficiently deflects high water volumes and offers outstanding aquaplaning resistance. In combination with a rounder shoulder to enlarge the tyre footprint, the NUR-Spec* design features a full dual cap layer area, significantly improving directional stability at high speeds.
Higher stiffness in the outside wall helps to improve cornering, while alternating phaseshifted tread blocks cut noise levels. We solved the complex problem of finding a balance between a soft tyre for good wet grip and the demand for durability and top road performance by producing an all-new rubber compound with a high proportion of silica. The addition of silica to the new NUR-Spec* compound has delivered improved handling and superb grip in all road conditions. In short, the AZENIS FK453 is the ambitious culmination of our decades of experience in motor sports.
*NUR-Spec = the rubber compound and design were developed with findings gained from the 24h Race experience at the Nuerburgring.
Product Benefits
Silica rubber mixture.
Outstanding handling in all driving conditions.
Excellent grip on snowy and wet roads.
Modern direction-bound profile for permanently reliable performance.
Prices from £112.56
Falken AZENIS FK453 CC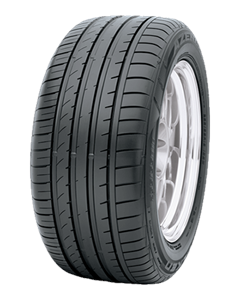 Azenis FK453 CC
The new AZENIS FK-453CC is designed to target the growing demand for European-made luxury Crossover vehicles as well as SUVs. The result is a tyre that offers higher performance, greater longevity and superb style. The FK-453CC boasts a large shoulder block, with a continuous outer rib that provides greater handling and stability. It also effectively reduces tyre noise and improves ride comfort. Additionally, the FK-453CC is solid in adverse conditions, calling upon its three wide, continuous grooves that effectively evacuate water significantly improving resistance to hydroplaning. Finally, Falken has created a stylish new sidewall design which highlights the Falken "F-Arrow" identity, enhancing the overall look of the tyre and complementing the luxury Crossover or SUV.
Features:
A NEW SILICA COMPOUND
for better dry and wet grip
SPECIAL "FALKEN FEATURE" F-ARROW IDENTITY
brand new sidewall that enhances the overall look of the tyre
THREE WIDE CIRCUMFERENTIAL GROOVES
effectively evacuate water and significantly improve hydroplaning resistance for outstanding wet handling
MULTIPLE NYLON REINFORCED LAYERS
designed for better high speed stability, plus new optimized casing profile offers better contact with the road for increased handling, particularly in the area of lane change maneuvers
ASYMMETRIC TREAD DESIGN
with large outside shoulder blocks, provide enhanced cornering and better braking traction while reducing tyre noise
Prices from £192.84
Falken AZENIS FK510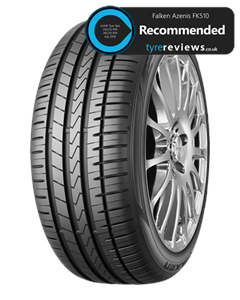 Azenis FK510
Falken's latest generation fagship tyre. Featuring an innovative, new compound, designed to maximize safety and enhance driver confdence.
Product Benefits
Outstanding wet and dry handling.
Confdence-inspiring levels of safety and control.
Exceptionally stable in high-speed corners.
Shorter braking distances.
Prices from £106.74
Falken AZENIS FK510 SUV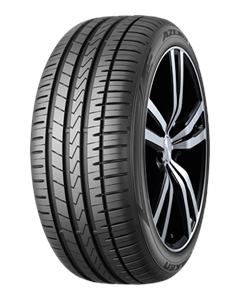 Azenis FK510 SUV
All-new Blade Sipe tread design. The Azenis FK510 SUV is based on the successful Azenis FK510 and tailored to fit the SUV market. Its innovative Blade Sipe tread design and 4D-Nano enhanced compound ensure exceptional grip and safety for the highest performing SUVs.
Product Benefits:
Maximised resistance against aquaplaning.
Excellent directional stability.
Exceptionally stable in high-speed corners.
Shorter braking distances vs. its predecessor.
Prices from £148.56
Falken EUROALL SEASON AS200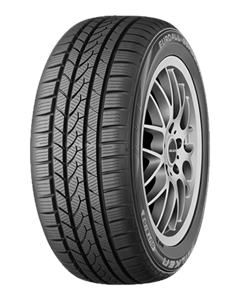 EUROALL SEASON AS200
The absolute all-rounder, the EUROALL SEASON AS200 provides good traction all year and short braking distances on snow. The EUROALL SEASON AS200 delivers convincing performance through its comfortable steering feel, the stable directional control on wet race tracks, the quiet tyre noise and its high level of comfort – making it test winner in the Auto Bild in 2013.
Optimised distribution of ground pressure and large contact area with the road
Improved traction, reduced braking distance
Excellent traction on ice and snow (M+S and snowflake symbols)
Low rolling noise
Prices from £79.98
Falken EUROALL SEASON AS210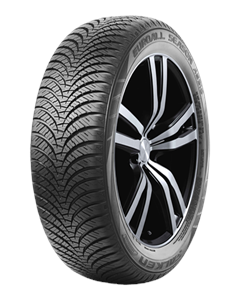 Euroall Season AS210
The Falken Euroall Season AS210 is a Premium Touring All Season tyre designed to be fitted to Passenger Car.
Prices from £65.15
Falken EUROALL SEASON VAN11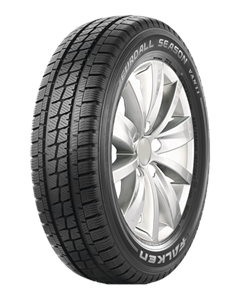 Euroall Season Van11
Product Features:
Superb durability and safety.
Outstanding traction and grip on wet and dry roads.
Maximum resistance against aquaplaning.
Shorter braking distances even on snow.
Excellent mileage in all applications.
Improved handling performance on all weather conditions.
Enhanced Wear Life.
Prices from £131.41
Falken EUROWINTER HS01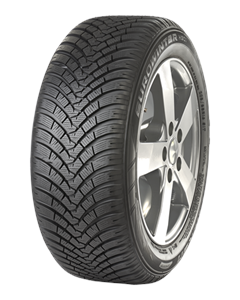 Eurowinter HS01
Our cutting-edge, high-end winter tyre. Featuring "Miura-Ori" 3D sipe technology, a 4D Nano Design compound and micro-optimised stiffer tread blocks, the Eurowinter HS01 combines superb winter driving characteristics with outstanding performance in wet conditions and low drive-by noise.
Product Benefits
Designed for directional stability, with patented "Miura-Ori" 3D sipe technology.
4D Nano Designed compound.
Micro-optimised stiffer tread blocks..
Outstanding traction and braking performance in snow and ice.
Prices from £68.83
Falken LANDAIR AT T-110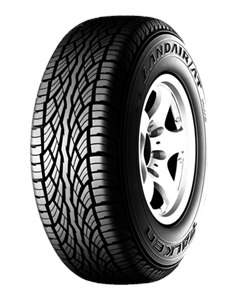 Landair AT T-110
Off-road tyres for city, road and off-road driving.
Excellent performance on wet and dry roads.
Superb wear resistance and stability even at higher speeds.
Special all-year-round rubber mix.
Improved grip on cornering and excellent directional stability.
Prices from £103.15
Falken LINAM VAN01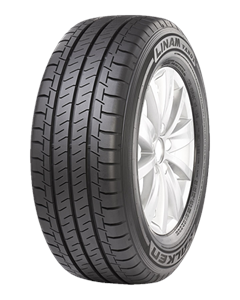 Linam VAN01
Introducing Falken´s next generation of light truck tyres for the summer season. The Linam VAN01 offers superb durability and safety, in addition to improved wear life and economy. A superb choice for any fleet or business looking to boost the efficiency and productivity of its light trucks.
Product Benefits
Enhanced durability provided by the sidewall protection band.
Even wear life via increased pattern stiffness and flatter tread profile.
Longer-lasting performance throughout the life of the tyre.
Maximised road contact area through 4D-Nano Design technology.
Prices from £102.18
Falken SINCERA SN-807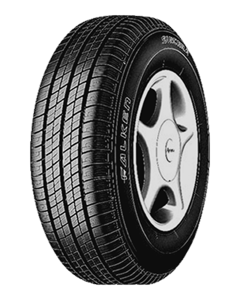 Sincera SN-807
Modern design with distinctive tread
Smooth riding comfort
Easy handling
Low noise at all speed-levels
Prices from £71.08
Falken SINCERA SN828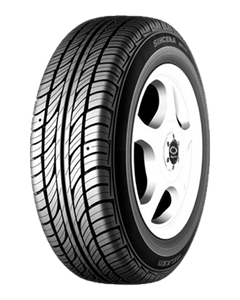 Sincera SN828
The Falken SINCERA SN828 Series focuses on economy, comfort and durability, making the SINCERA SN828 the perfect choice for cost conscious drivers. This low-noise tyre features outstanding directional stability even at high speeds, and the new compound with added silica provides significantly improved aquaplaning resistance. A special benefit is the Special Eyes wear indication system. Special Eyes are small depressions in the tread which change shape to show the degree of wear, thus warning drivers of the need to rotate the tyres. The system ensures even tyre wear and increases the total mileage of the tyres.
The new silica mixture optimises the performance on wet roads and increases wear resistance.
Product Benefits
Easy handling and excellent stability at high speeds.
Low rolling noise.
High driving comfort.
Prices from £67.09
Falken SINCERA SN832 ECORUN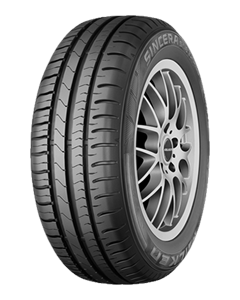 Sincera SN832 Ecorun
The Falken Sincera SN832 Ecorun has been created with improved fuel efficiency and increased wet performance in mind. The rubber compound of the tyre has been carefully optimised to ensure lower friction. This leads to less heat generation and an improved rolling resistance.
With the innovative SINCERA SN832 ECORUN Falken's engineers have achieved a technological quantum leap – by means of the ground-breaking 4D nano design technology and a new silica mixture.
Product Benefits
Optimal combination of low rolling resistance and safe handling on wet roads
Significantly shorter braking distances due to new silica components of the tyre tread mixture
Developed with innovative 4D nano design technology
Prices from £61.15
Falken WILDPEAK A/T AT01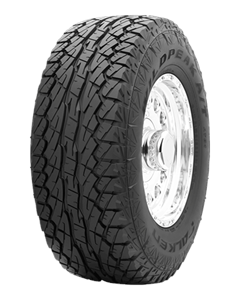 Wildpeak A/T AT01
High-performance all-terrain tyres with outstanding driving stability
Superb handling in all on- and offroad situation.
Low noise even at high speeds
Superb traction on loose surfaces
Symmetrical tread design with broad grooves
High-precision on-road response and directional stability
Reinforced casing and extra-rigid steel belts
Prices from £111.12
Falken WILDPEAK M/T Wildpeak M/T
Trusted by the pros to take on the harshest conditions, the tough WILDPEAK M/T is built to get you there and back whether you're on the pavement, mud, snow or rocks. The M/T features Falken's proprietary three-ply DURASPEC™ Sidewall Technology developed to sustain the most punishing off-road conditions. DURASPEC™ also features two high ply turn-ups that provide an additional layer of protection and durability. An aggressive upper sidewall provides additional traction at low air pressures on rugged terrain. The WILDPEAK M/T also features exceptional road manners thanks to an optimized variable three-pitch tread pattern and precision manufacturing technology.
FEATURES
DURASPEC™ THREE PLY SIDEWALL
is a Falken proprietary technology developed to endure the most punishing off-road conditions. DURASPEC also features two high ply turn-ups that provide an additional layer of protection.
HEAT DIFFUSER TECHNOLOGY
in the lower sidewall dissipates heat to protect the internal tire components. Keeping this critical area of the tire cool ensures vehicle stability even when towing or carrying heavy loads.
RUGGED AND RIGID TREAD BLOCKS
feature step-down supports on the center blocks to provide tread-pattern rigidity in the contact patch, enhancing stability and handling while preventing stones from becoming trapped in the grooves.
AGGRESSIVE UPPER SIDEWALL
along with offset shoulder blocks protect the tire from sharp rocks and provide additional off-road traction at low tire pressures or in off-camber situations.
MUD AND ROCK DEFENSE FEATURES
shed mud from the tread grooves to prevent loss of traction, ensuring maximum grip while preventing rocks from puncturing the base of the tread.
OPTIMIZED TREAD PATTERN
with three variable pitches positions the tread blocks to provide an exceptionally quiet ride.
Prices from £156.29
Falken ZIEX ZE310 ECORUN

Ziex ZE310 Ecorun
The Falken Ziex ZE310 Ecorun features the latest technology to provide confidence-inspiring levels of safety and control.
The Falken Ziex ZE310 Ecorun tyre has outstanding handling in both wet and dry conditions. It also features the latest in noise reduction technology, giving a more comfortable ride. The tyre also has a cutting-edge pattern design which includes the Adaptive Constant Pressure feature that maintains consistent contact with the road surface. The compound of the tyre benefits from the latest in research and development with the Advanced 4d Nano Design technology. This feature provides excellent traction and grip on wet and dry roads as well as improved wear life.
Falken Ziex ZE310 Ecorun extra information:
Wide circumferential grooves for efficient water displacement
Sharp handling response
Advanced 4D Nano Design compound
Prices from £70.01
Falken ZIEX ZE914 ECORUN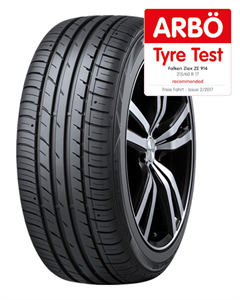 Ziex ZE914 Ecorun
The innovative concept for a new generation of sporty tyres. Our supreme answer to the demands of dry handling, wet grip, low rolling resistance and above all, a comfortable drive. The asymmetrical tread design of the tyre shoulders and the four longitudinal grooves guarantee maximum road grip and improve water uptake and dispersion as well as braking and handling in wet conditions. The stiff tread blocks enhance directional stability and add sportiness to cornering. Small horizontal grooves and sipes optimize handling and driving comfort.
With the ZIEX ZE914 ECORUN Falken offers cost-conscious drivers a modern tyre with optimised rolling resistance and well-balanced performance characteristics.
Product Benefits
Outstanding level of grip on dry and wet roads.
Low external rolling noise.
Particularly suitable for a sporty driving style.
With Special Eyes tyre wear indicators.
Prices from £73.40
Falken ZIEX ZE914 ECORUN RUNFLAT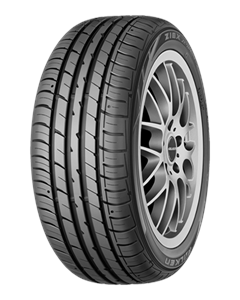 Ziex ZE914 Ecorun Runflat
With the Ziex ZE914 EcoRun Falken offers cost-conscious drivers a modern tyre with optimised rolling resistance and well-balanced performance characteristics.
Product Benefits:
Outstanding level of grip on dry and wet roads.
Low external rolling noise.
Particularly suitable for a sporty driving style.
With Special Eyes tyre wear indicators.
Prices from £103.73
Falken EUROWINTER HS01 SUV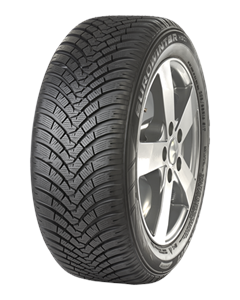 Eurowinter HS01 SUV
The combination of Miura-Ori 3D sipes and a unidirectional tread design ensure secure braking and traction on snowy and icy surfaces and instills driver confidence
Cutting-edge Advanced 4D-Nano Design enhanced compounds ensuring superior wet performance, better fuel efficiency and extended tyre life
ACP (Adaptive Constant Pressure) tread design improves directional stability, boosts braking performance and wear life combined with an even tread wear pattern
Extraordinary resistance against aquaplaning
Falken EUROWINTER HS449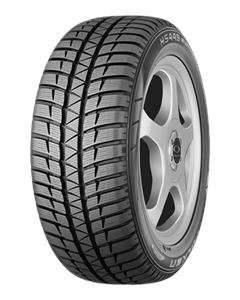 Eurowinter HS449
Deep snow in the Alps, icy roads, snow on the highway and rainy weather with temperatures around freezing point: the requirements placed a modern winter tyre have greatly increased.
Product Benefits:
Innovative rubber mixtures with a high proportion of silica.
Improved polymer compounds.
5-channel phase shifted tread blocks guarantee minimal rolling noise.
New three-dimensional ribs with high density for good performance and improved traction on ice and snow.
Falken EUROWINTER VAN01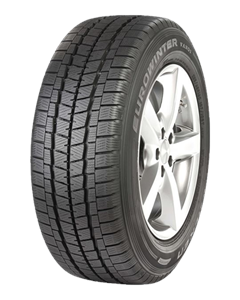 Eurowinter VAN01
The Falken Eurowinter VAN01 is a Touring Winter tyre designed to be fitted to a Van.
Product Benefits
Significantly improved wear life by having Adaptive Constant Pressure.
Enhanced snow traction, stability and handling.
Improved fuel economy.
Outstanding wet and snow performance.
Falken FK452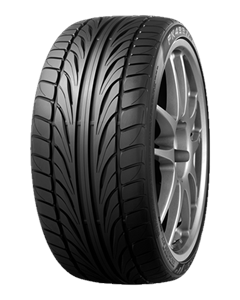 FK452
Today, top-end sports-oriented cars feature modern chassis technology and highpowered engine performance that can make punishing demands on tyre design and quality. The FK452 meets the challenge, offering a range of state-of-the-art wide-tread tyres. Precise handling, well-balanced driving under all conditions, sophisticated tread design and one of the most comprehensive size ranges on the wide-tread tyre market make the FK452 the superior tyre choice for sporty mid-size cars, upper-class limousines, and powerful tuned sports cars.
Falken LINAM R51

Linam R51
Designed for vans and light trucks, featuring a six-rib pattern.
Excellent wear resistance, durability and performance in wet conditions.
Falken WILDPEAK A/T3WA Wildpeak A/T3WA
The new WILDPEAK A/T generation, AT3WA, is engineered for any adventure, at any time and in any weather.
The AT3WA combines durable off-road ability and rugged terrain driving without compromises on the road. It represents a true ALL TERRAIN performance tyre.
Falken WILDPEAK H/T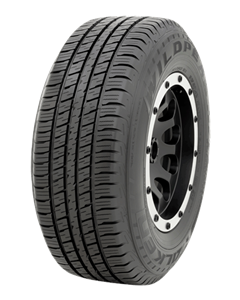 Wildpeak H/T
The WILDPEAK H/T offers a combination of superb dry handling and responsive wet braking on all roadway surfaces. Falken has optimized traction and control through the combination of a non-directional tread pattern, high-tension casing ply and stiff wide steel belts in order to provide stability and comfort for pick-up trucks and SUVs alike whatever the season. With excellent value from its long lasting tread and optimal ride comfort, the WILDPEAK H/T leaves the competition in the dust.
FEATURES
SYMMETRIC NON-DIRECTIONAL FIVE-RIB TREAD DESIGN
provides optimal handling stability and comfort while allowing cross-rotation patterns to fight irregular wear.
MULTI-WAVE LATERAL SIPES
enhance wet traction and increase all-season performance.
VARIABLE-PITCH SHOULDER DESIGN
provides exceptional all-season performance while reducing tire noise.
FOUR LARGE CIRCUMFERENTIAL STRAIGHT GROOVES
effectively evacuate water and significantly enhance hydroplaning resistance for superb wet handling.